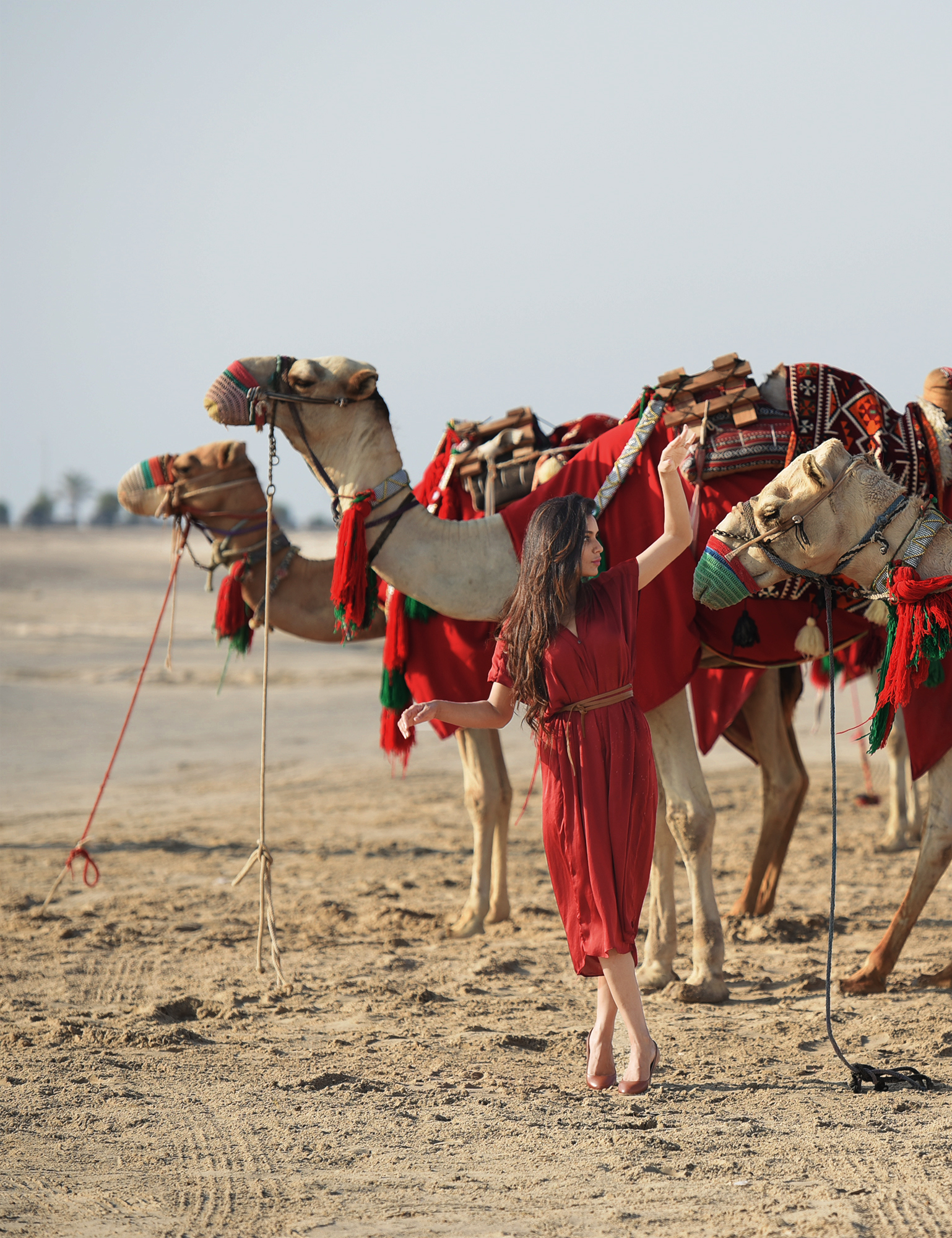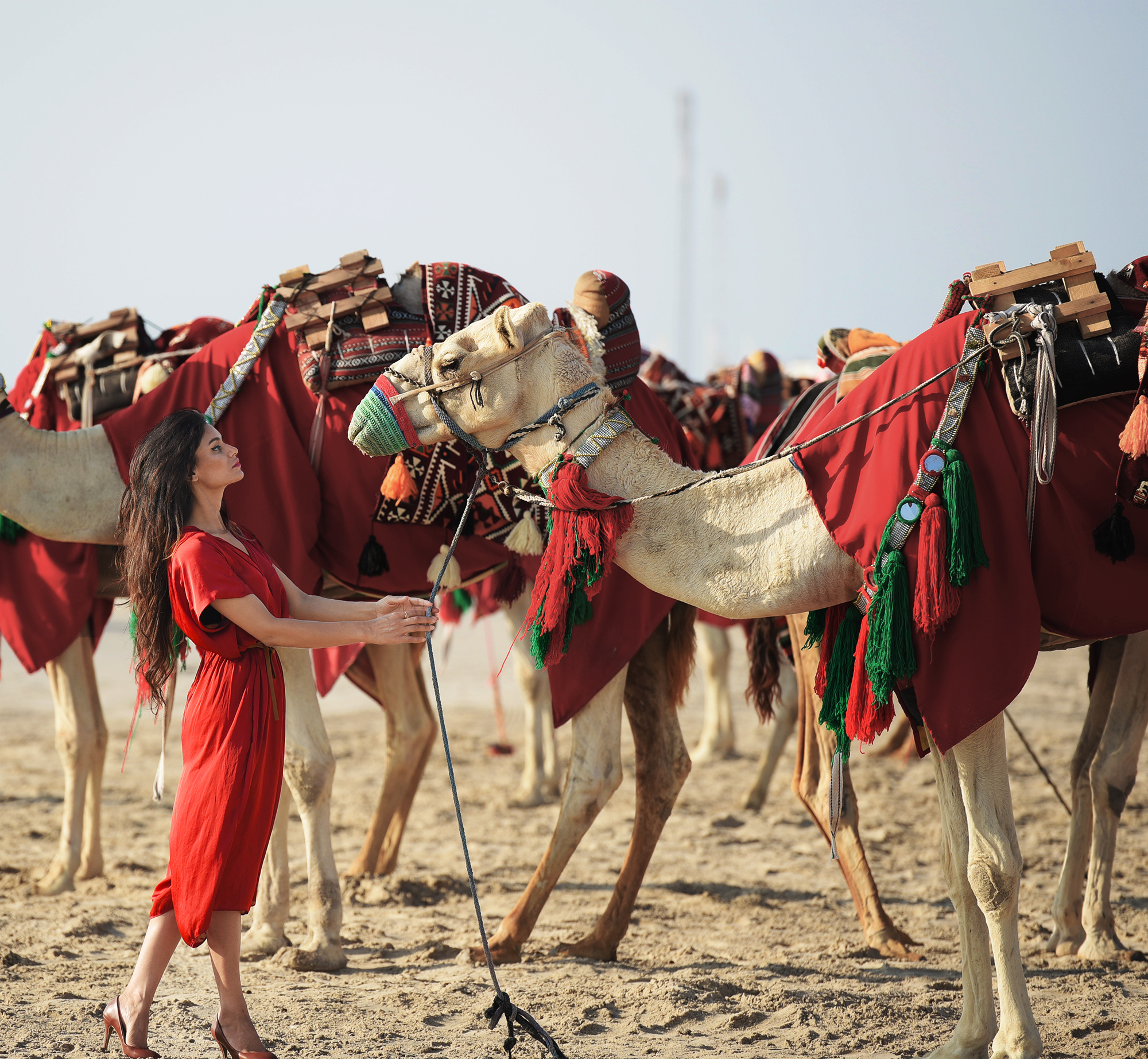 Doha, the city of desserts. The first thought I had when I landed here was that there was nothing here to impress me or to indulge my creative instincts as all I could see around was barren dessert. I felt alone in the concrete jungle until I become a blogger and started exploring it through my camera lenses. As this journey of exploration continued this city came close to my heart. The dessert, camels and ocean, now I love it all, they have become an integral part of my life. Now I don't want to leave it as an artist as it gives me an opportunity to unfold the never ending beauty of this dessert city with every shoot.
Dessert of Doha, the vast golden cloth spread on earth, vast never ending sheet of sparkle. The one which could not be claimed or owned, it was a piece of cloth carried by winds, never held down by stones, and given a hundred names….. Its caravans, those strange rambling feasts and cultures, left nothing behind, not an ember. This is a place where we all disappeared into the landscape.
When I walked through this mesmerizing landscape in the bright afternoon, the view felt so fascinating that for a second I forgot about the scorching heat that penetrated my skin. Standing in the vast splendor of nature, I closed my eyes and here I feel levitated and so are my thoughts and creativity. The sky above looked like strokes of water color, with patches of red and blue, and at some points they joint to form a shade of violet and purple. There were many dotted clouds above, and they looked cotton- cottage in the sky. But it was the bright sun that was the most attractive. It looked like a gold plated sphere that was decorated with ruby stones, shinning so brightly that it illuminated the sand underneath.
I strolled through the sand dunes and when I climbed the steep hill, I was aware of the panoramic view that caught my eye. As I turn around I saw the huge ocean of ochre yellow sand that covered a radius of many kilometers. The sand dunes looked like the folds of a perfectly smooth cloth that wrapped the area around me. I felt as if the earth is wearing a beautiful smooth dress of gold which has strokes of red, blue and purple blending into each other enhancing the golden base fabric. The dress is accessorized by the gold sphere of sun with the detailing of rubies around. A dress so perfect, so mesmerizing created by the greatest designer God who inspires me with these miracles of his.
It  is for this reason when I decided to do this photo in a dessert I tried keeping the color palate more bright and vibrant giving more focus to red which helps enhancing both, the background of the dessert as well as the dress. One thought I would love to share which came to my mind during this shoot. People always associate dessert with barren land with no life or greenery and when they pass through such land they look for a place called "oasis" which literally means a green spot. Being a designer I always wish to create such styles and ideas which would be like this Oasis for fashion lovers, giving them hope, freshness and uniqueness. Making their style more vibrant and colorful.
Hope you like it.
Until my next post,
Stay Voguish Stay Happy,
Gazal