After finishing my meeting I was walking towards the gate. I was happy that the meeting went positively and I was already planning my new project after closing this deal. I was waiting for my car outside this hotel, which is said to be a 5-star hotel. It took a really long time & I was getting bored. I just wanted my car to arrive at the gate as soon as possible. I would look into my mobile every now and then to pass my time. And at times I got a very uneasy feeling.. There were many people around me, Some waiting for their drivers and some waiting for their cars too. There were also some women with kids. There were a few men who were discussing something and two arab girls who were extremely beautiful, wearing an amazing dress stunning enough to get them a lot of attention, having put on perfect eye makeup. But one woman caught my attention. She was wearing an abaya and holding a Dior bag with perfectly matching stilettos. Her stilettos got my attention because of the Swarovski diamond on it which was shining a little extra, as it was almost evening. From the first glance I knew she was a Qatari lady. She was holding a hand of a 8 year old girl. A very beautiful girl with amazing brown eyes. Her pink cheeks were matching her pink frock.
I was busy with my mobile and then suddenly I heard this voice.
She- Hi, are you from India? (A very soft and gentle voice took my attention.)
scroll down to read more...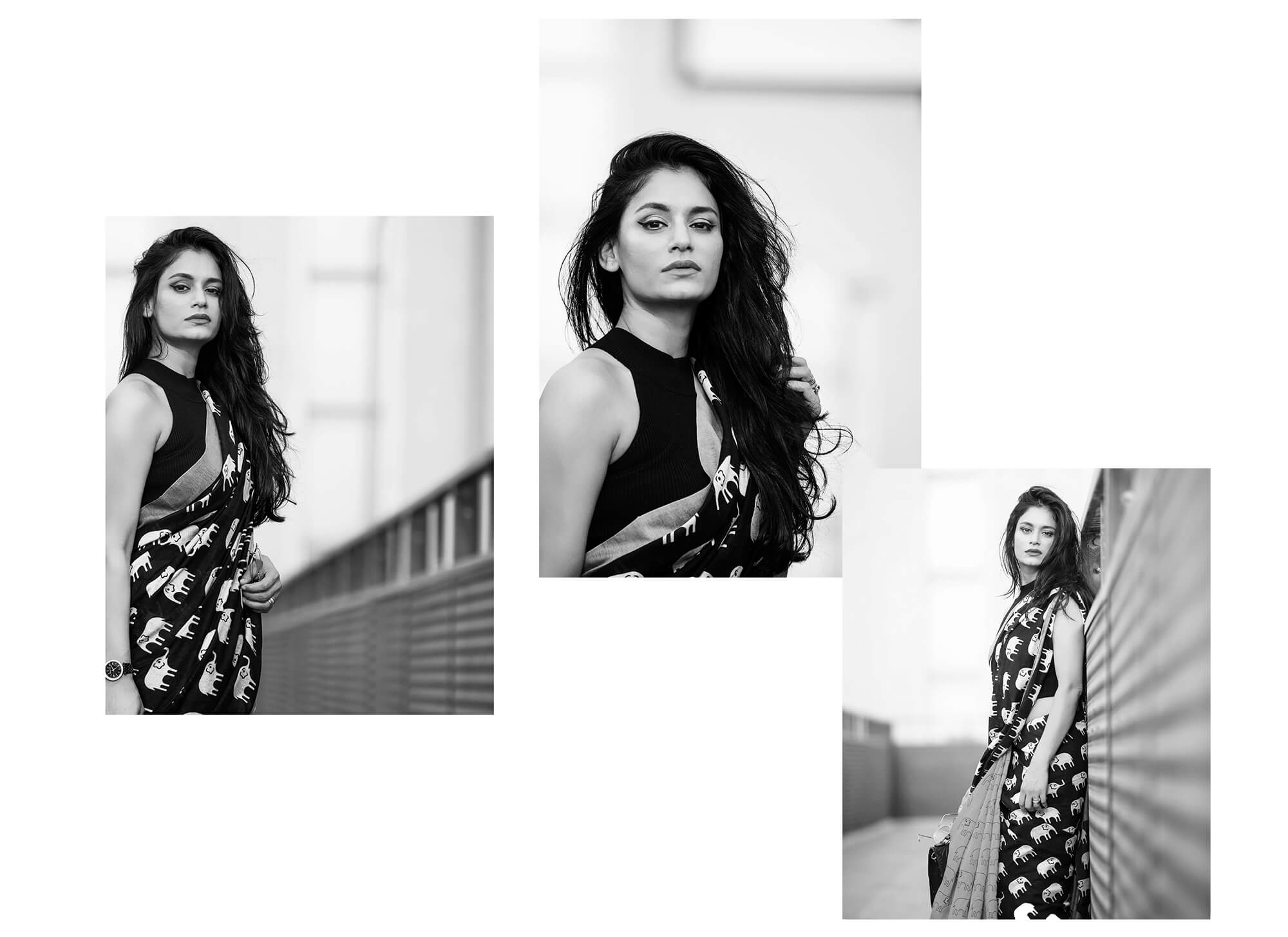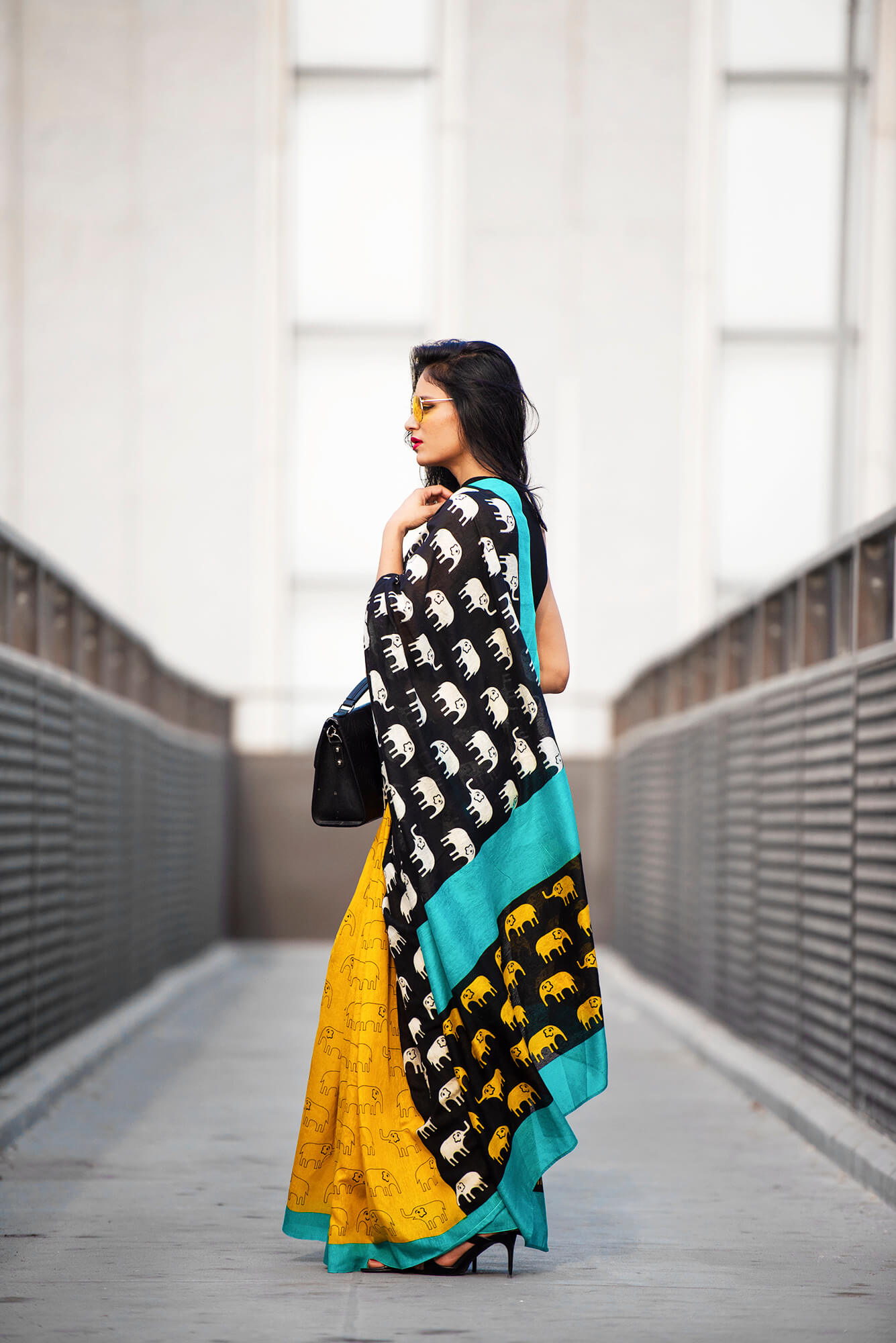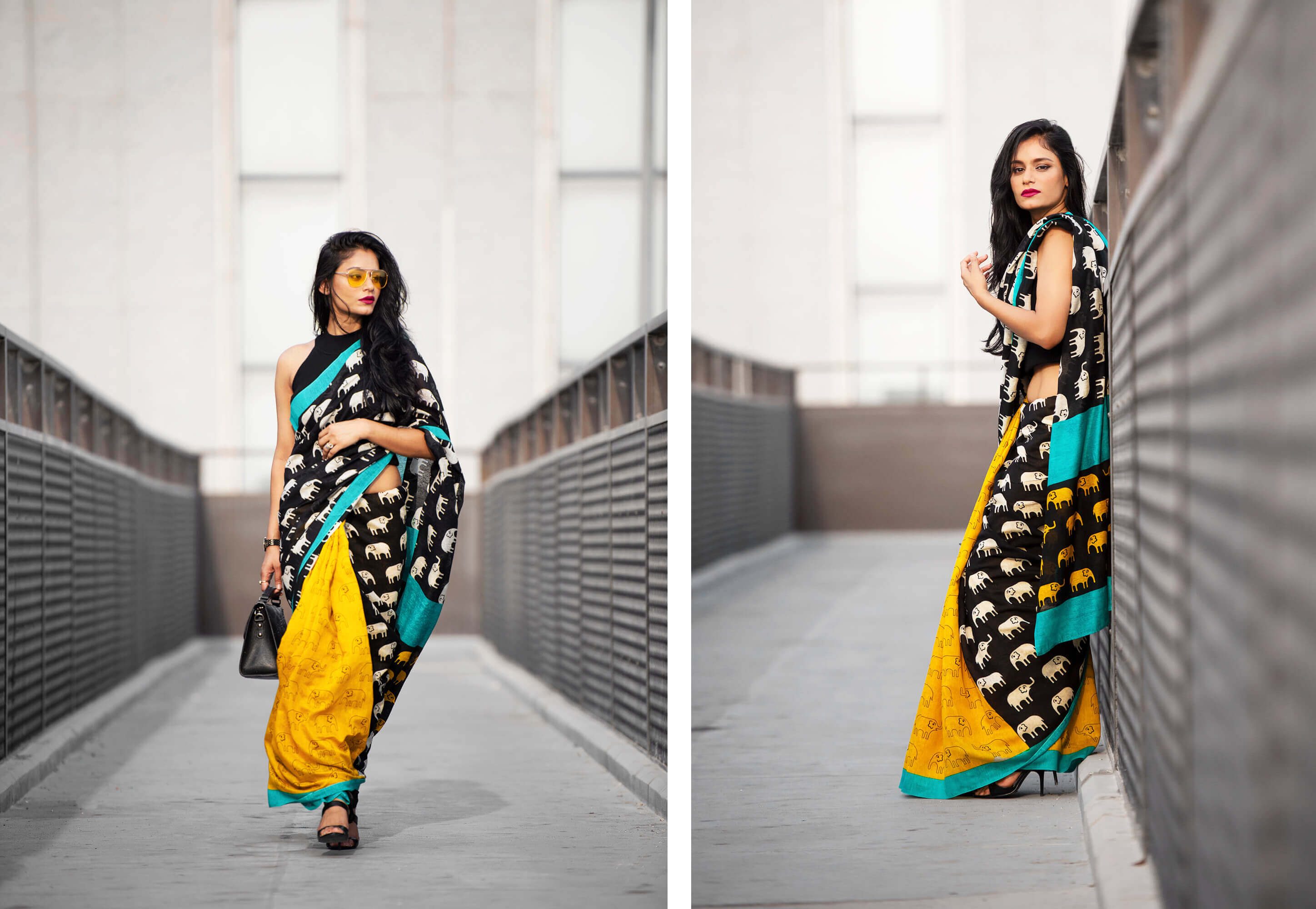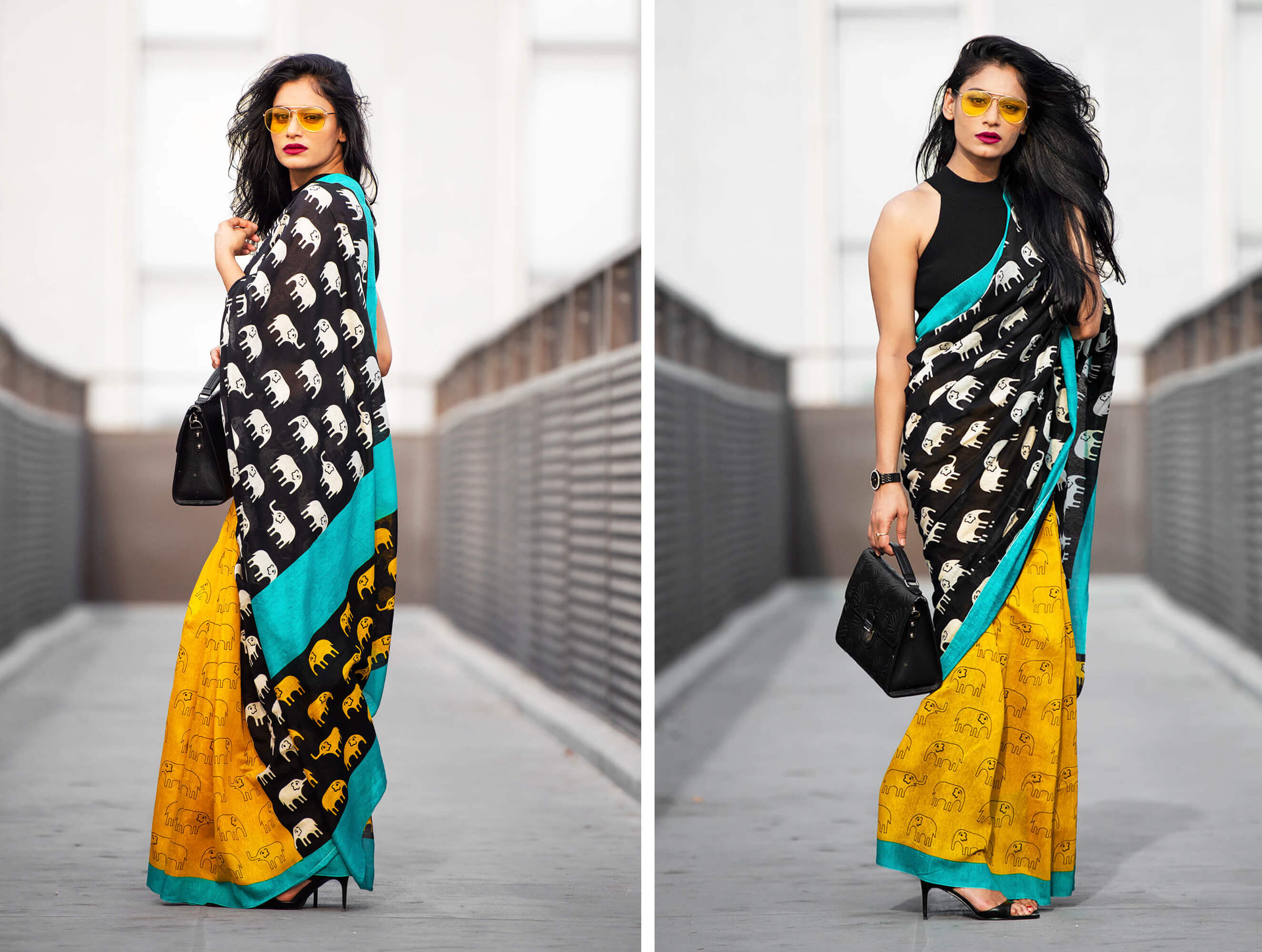 I saw the same Qatari woman I saw sometime ago.
I smiled. "Yes Iam from India."
She- Your dress is very beautiful. (She had an amazing shine in her eyes While looking at my outfit.  She couldn't hide that she loved my new green pure chiffon saari .)
Me- thank you!
She- Do you live in Doha? ( She looked curious)
Me- "Yes I live in Doha". I smiled
I asked her where is she from & she said
She- This is my home" I'm Qatari
I smiled and said "Good to know.."
She- Do you mind if I take one picture of you with my daughter? ( With a little hesitation she asked,)
Me- (After 2 seconds of pause) Yes sure.
She- Shukran.
I could tell that she was happy. She asked her daughter in Arabic to stand next to me. She was a shy little girl. After some hesitation she came and stood next to me. We both smiled for the camera.
After taking a few pics she came to me and said thank you. (She had a lovely smile on her face.)
She- I like Indian wear and I watch lot of Bollywood movies. ( I could see happiness in her eyes while sharing her interest and her love for bollywood, She continued…"Iam a very big fan of Salman khan and Shahrukh khan, in my family we all enjoy watching Bollywood movies."
She was sharing this amazing & positive vibes about India. I started getting good vibes with her. To continue the conversation I asked her what are her favorite movies. She took the names of some movies. ( Honestly she had a good taste in Indian movies I was quite impress by her choices and knowing that she remembered the names of these movies were kinda very impressive )some of the bollywood movies name she didn't remember so she sang one line in broken Hindi. I smiled at her cute 'Hindi mixed with Arabic' accent but honestly she was sounding good. 
We both laughed.
She- I would love to wear a saree some day. I like this outfit a lot, its different and very beautiful. I like Manish Malhotra collection a lot. But you see saari looks good only when one is slim like you. Mashallah you look very beautiful in a saree.
Me- you are very sweet (while blushing)
She- you work here?
Me- yes I do blogging
She- You are a blogger? her eyes got broader and she looked happy after hearing this.
Me- yes
She- whats your blog name? she started to do something in her mobile.
Me- Its IAMGAZAL (She started searching for me on her Insta. After finding my profile)
She- Mashallah you have very beautiful pictures. She started scrolling down more on my profile. You have a good photographer, all your pictures are beautiful. I followed you now I will show it to my sisters later they will be happy to know you.
Me- Thank you thats really kind of you.
She- are you married?
Me- Yes I'm married and I have a daughter
She- Mashallah, How old is she?' Her eyes widened
Me- She is 11
She look even more shocked
She- Mashallah, no one can say you have a daughter. You're so slim! you have to go to the gym and maybe you don't eat a lot.. right? She was sure that I do more than extra to keep myself slim and fit.
Me- I eat a lot but I go to the gym regularly.
She- I want to lose some weight. I tried but I couldn't see much difference. (She looks at herself)
She didn't look very happy. I had a glance at her appearance, she must be in her late 30s. Her weight around 70-75 kg and height maybe 5.3-4.
Me- its ok as long as you are happy with your life, your weight shouldn't matter much. And honestly I feel positive vibes coming from you, that means you are already living a blessed life.
She- you are right, Allhamdolillah i have very loving family.
I wanted to exchange some more positive and happy vibes from her but I saw my car coming. Before heading towards my car I said " it was nice meeting with you, Hope to see you soon again"
She - Inshallah ( Her honest smile was quite impressive. You know its hard to find people who smile for more than 5 seconds but she had a smile which didn't fade away quickly.
Iam sharing this lovely interaction so that you do not pay attention to rumors where people claim that Local people are rude and arrogant. Though I have not come across any local people who are rude or arrogant to me but people say a lot about this. When I was new to this country I believed in these rumors and got judgmental but as time passed and when I started to interact with them due to my work , I found them really supportive and open minded. Btw if you don't know about this let me tell you. After I started blogging for almost 10 months I didn't get any paid work. If you remember I have shared this many times that those were stressful days for not seeing any fruitful result coming from the hard work I was putting in my blog and when I was about to stop working on my blog my first paid work came through a Qatari fashion designer. She might not know about this that she played a big role in my journey. But I still remember her and that project is still very close to my heart.
Iam hoping to meet many more humble and amazing people in my life specially those who think beyond racism and make our society a happy living place.
Signing off for now,
Until my next post,
Stay voguish Stay Humble
Gazal