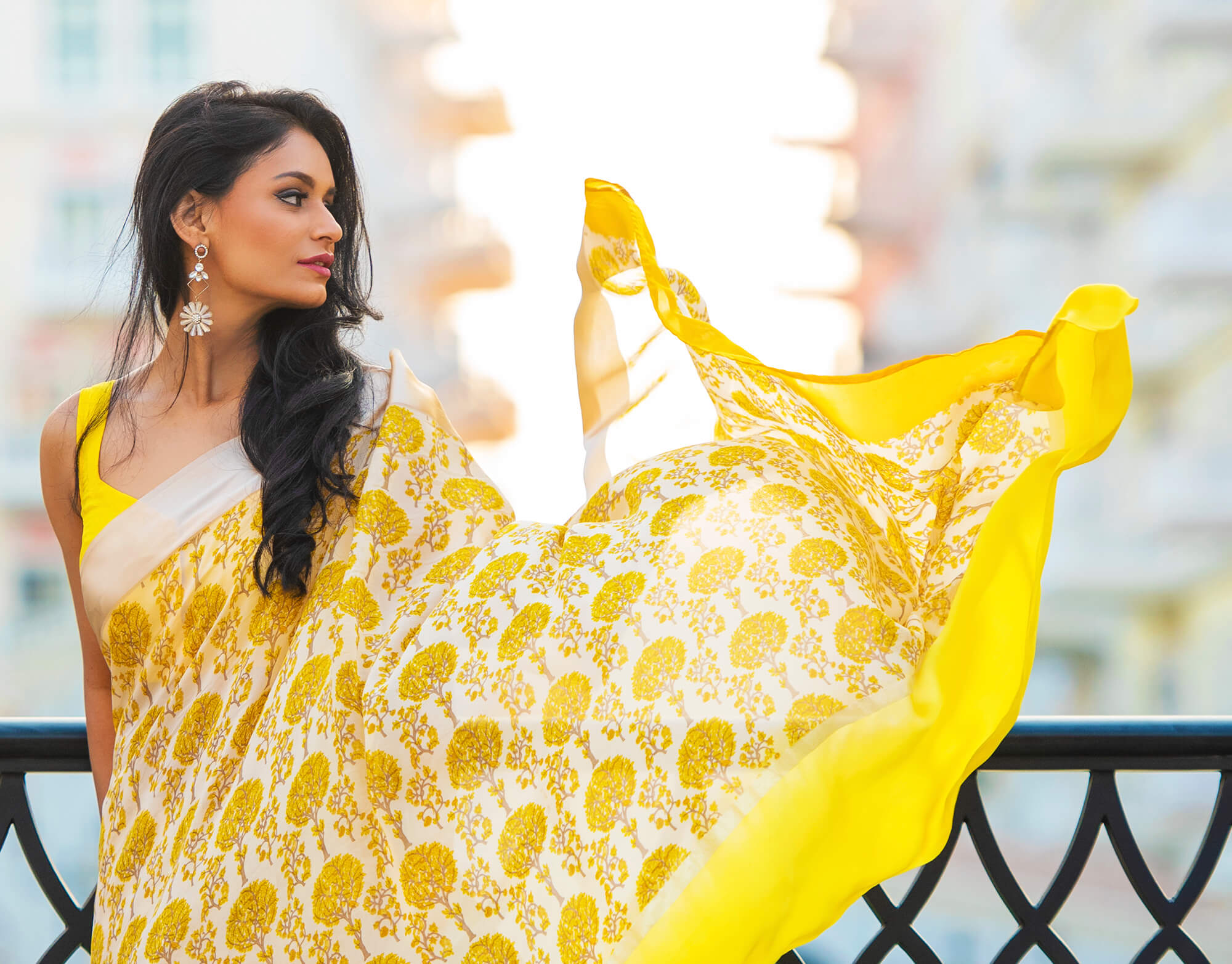 Every one of you must be aware of how committed I am towards promoting my country and its culture abroad. You all know my story behind changing my wardrobe from western to traditional. If you have missed reading my previous post about "Why I changed my wardrobe from western to traditional" you can read it here https://www.iamgazal.com/changed-wardrobe-western-traditional/
Now that I have decided to wear sarees and make them my signature style, the very first challenge I faced is to style it in such a way that it shouldn't be any less than a fashion statement, that it would motivate and inspire other women and young girls who follow IAMGAZAL. I want to manifest its versatility and charm. I want to convey how it can be worn not only at family events or weddings, but also at a work place or any event where they choose to wear western wear because it appears to be more stylish and modern.
So, I bear the following things in mind.
1.     The first thing to consider is that it should not loose  the elegance and charm.
2.      It should feel and look modern, yet chic.
3.      A Saree can be draped in a number of ways. The way I put it on should be totally comfortable, no matter If you are attending a luxury event or a meeting.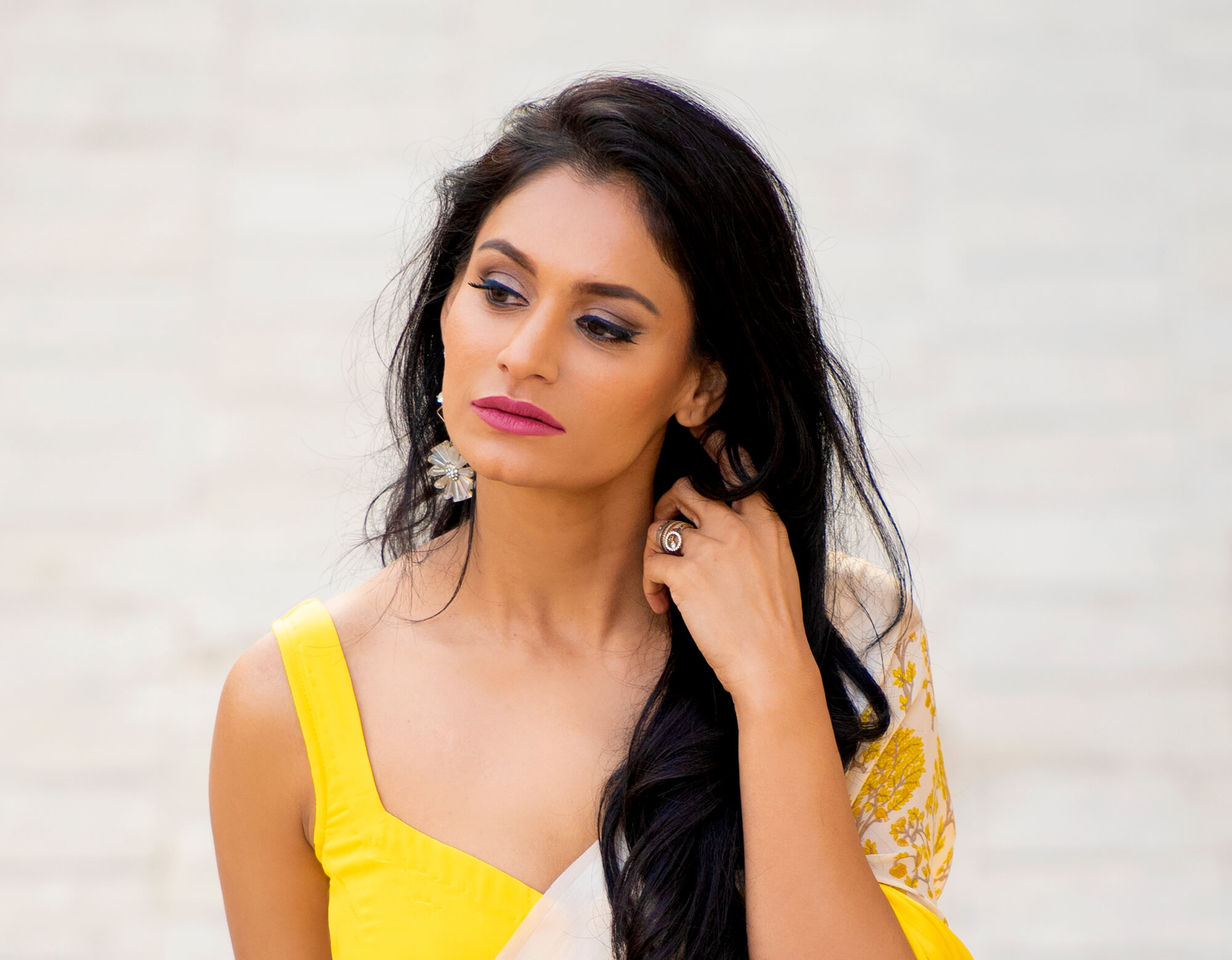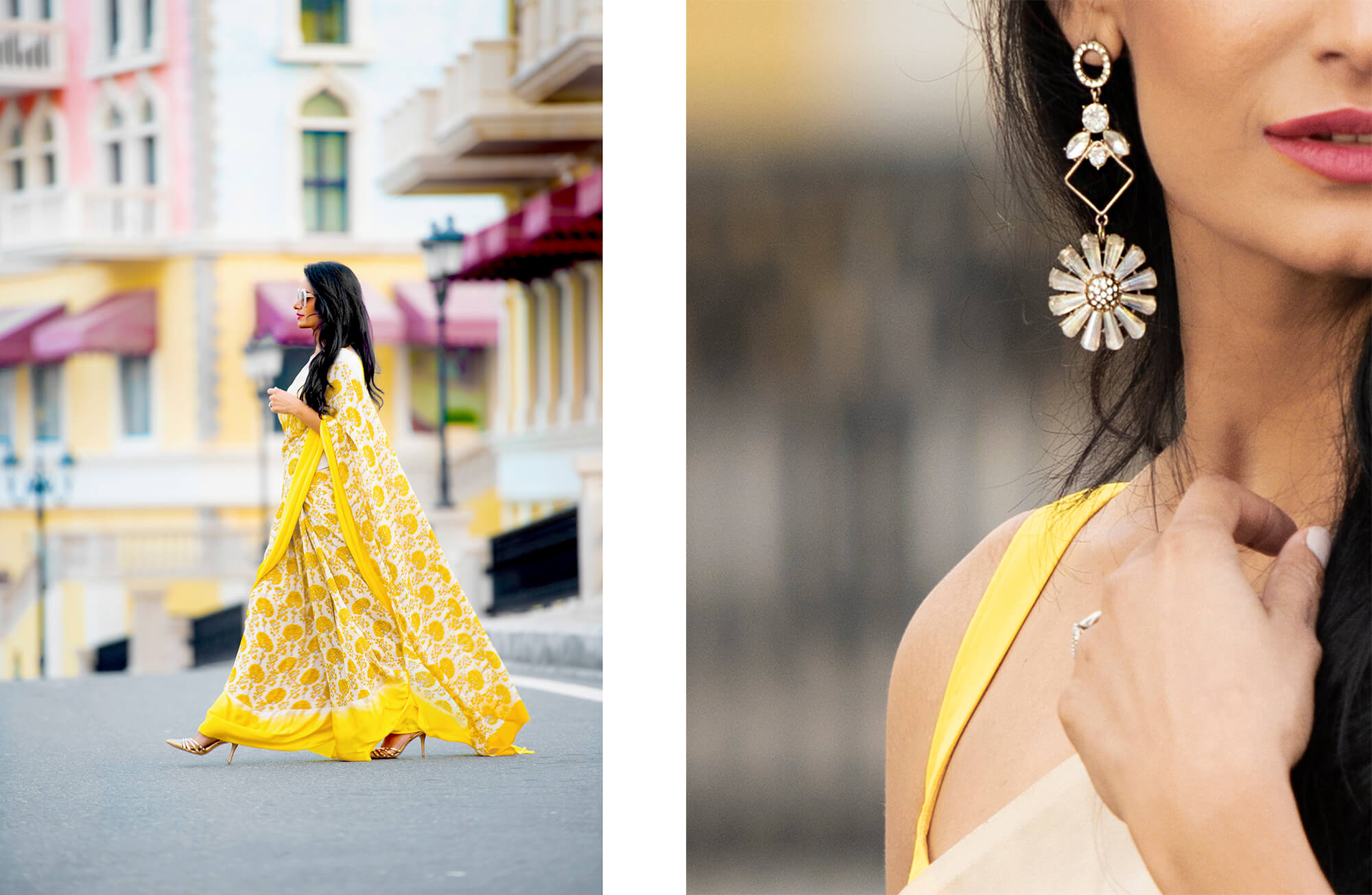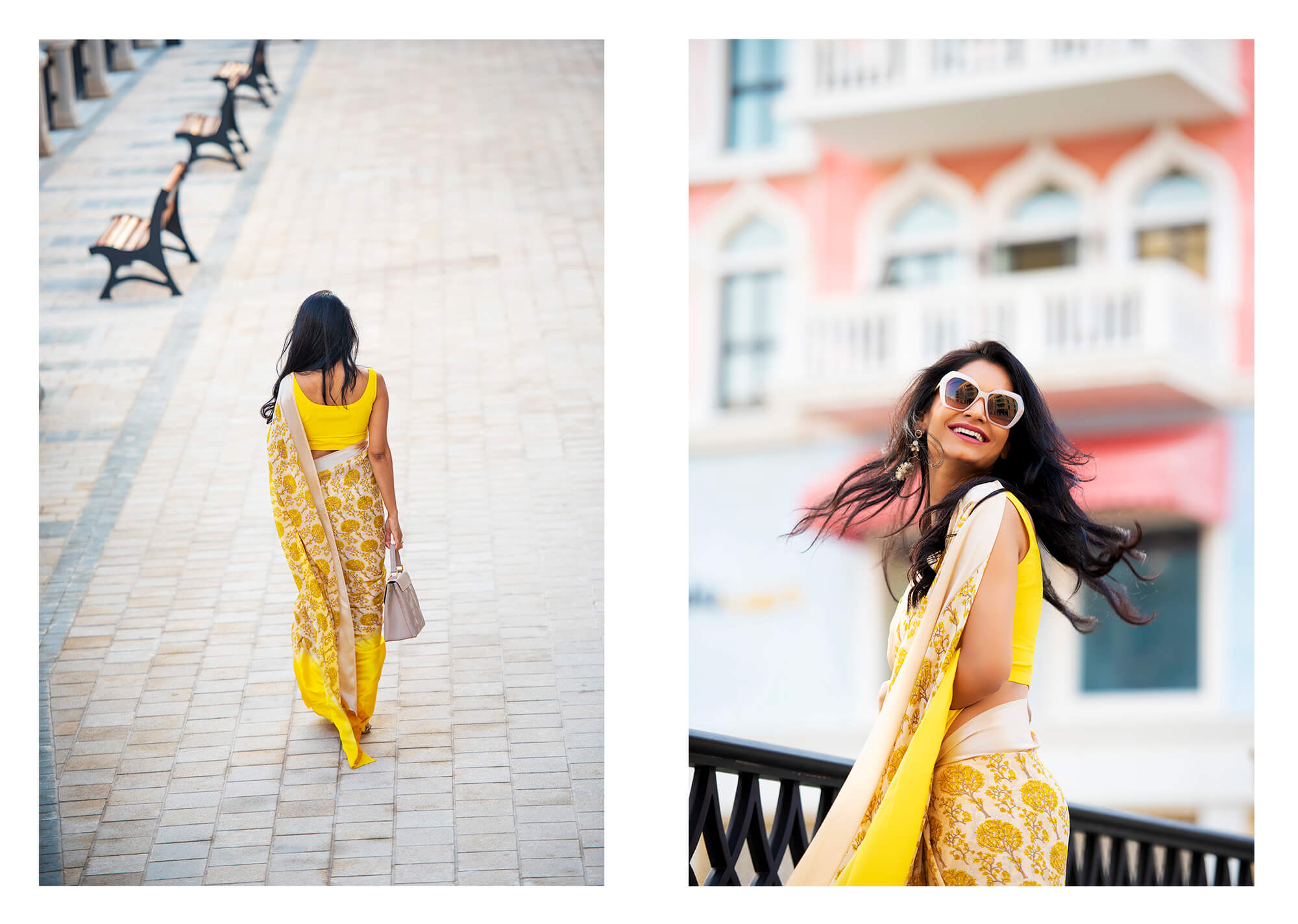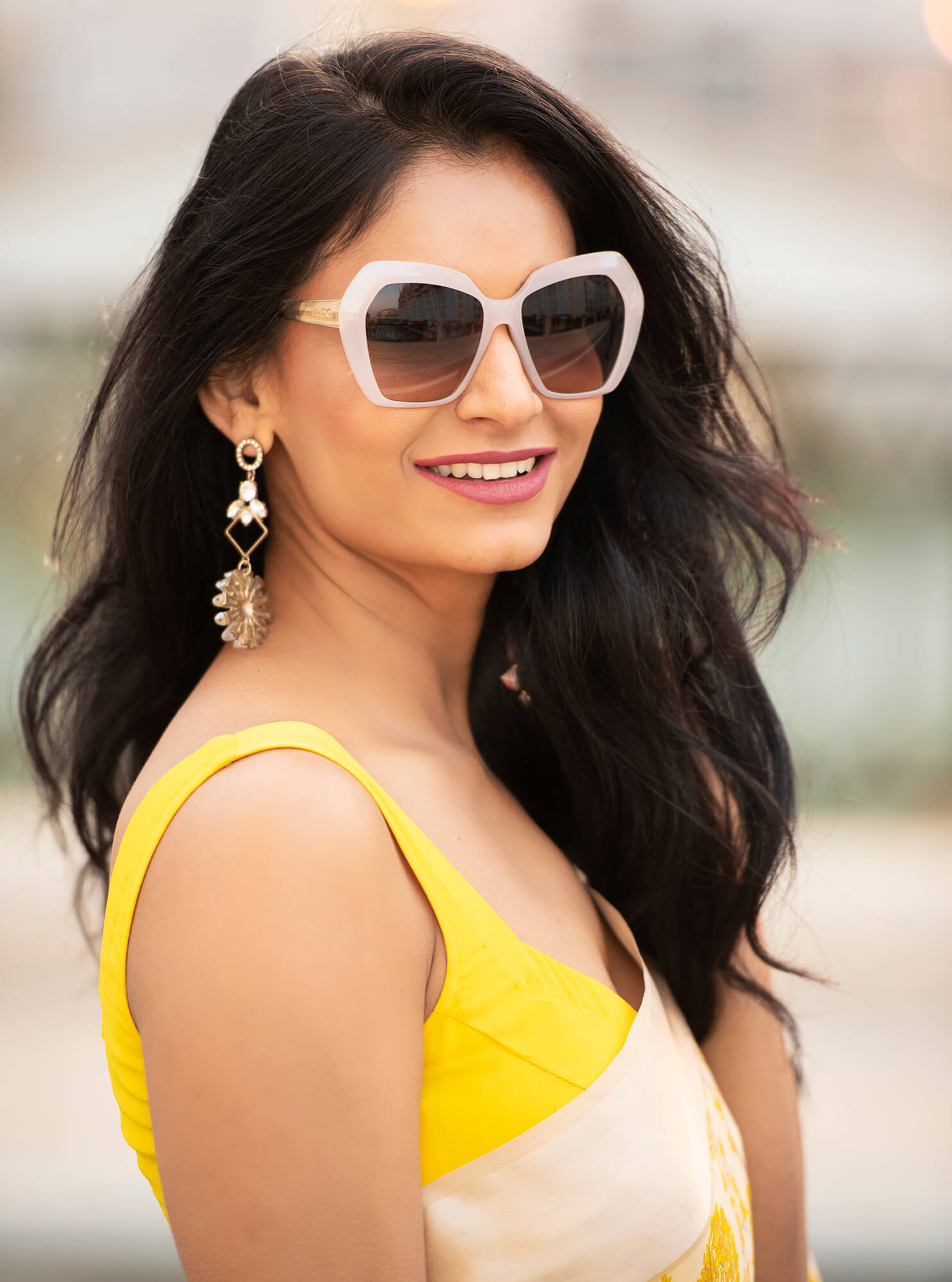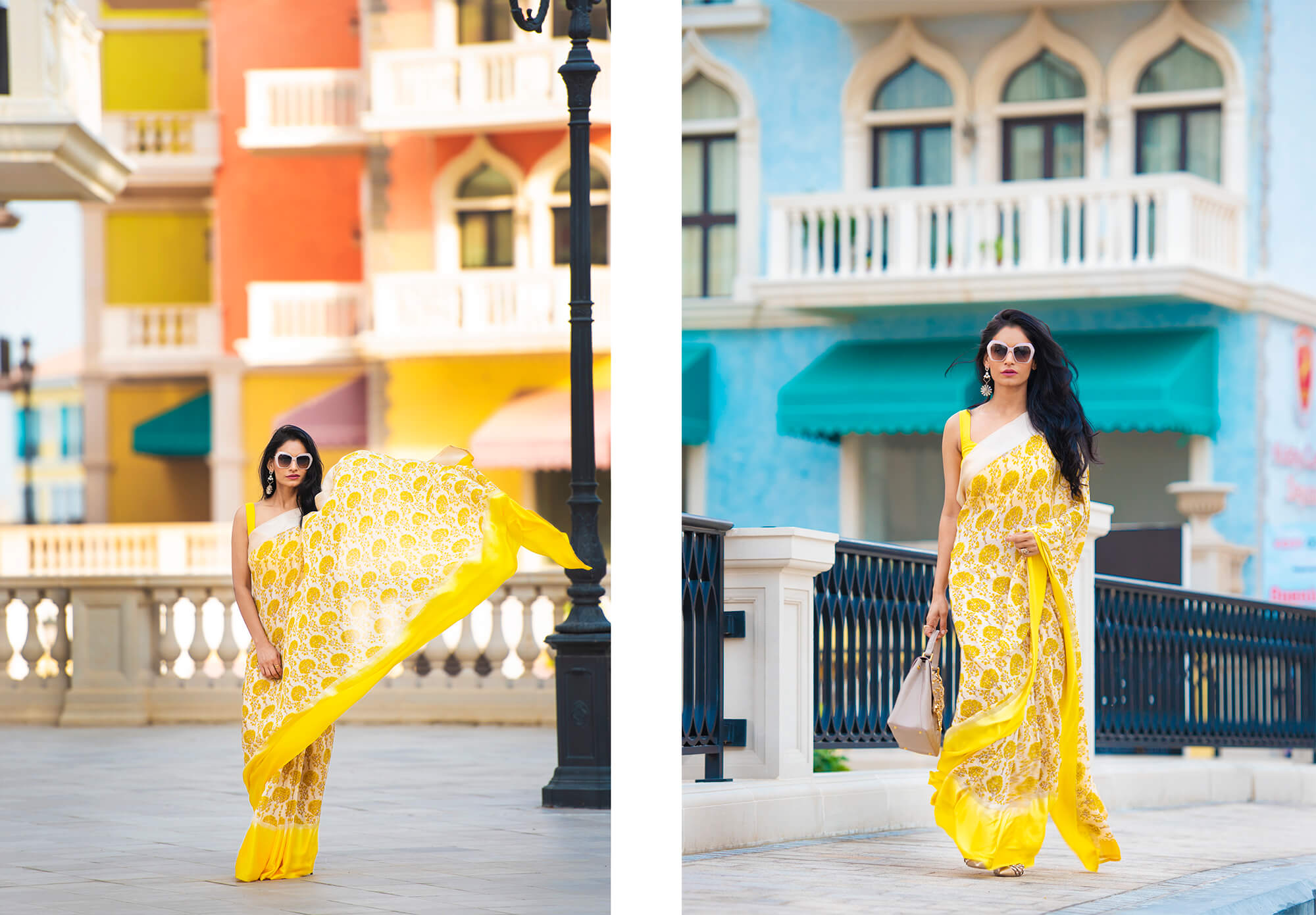 Saree- Neerus
Glasses- Aldo
Shoes- Charles and Keith
Bag- Braccialini
Earring- Aldo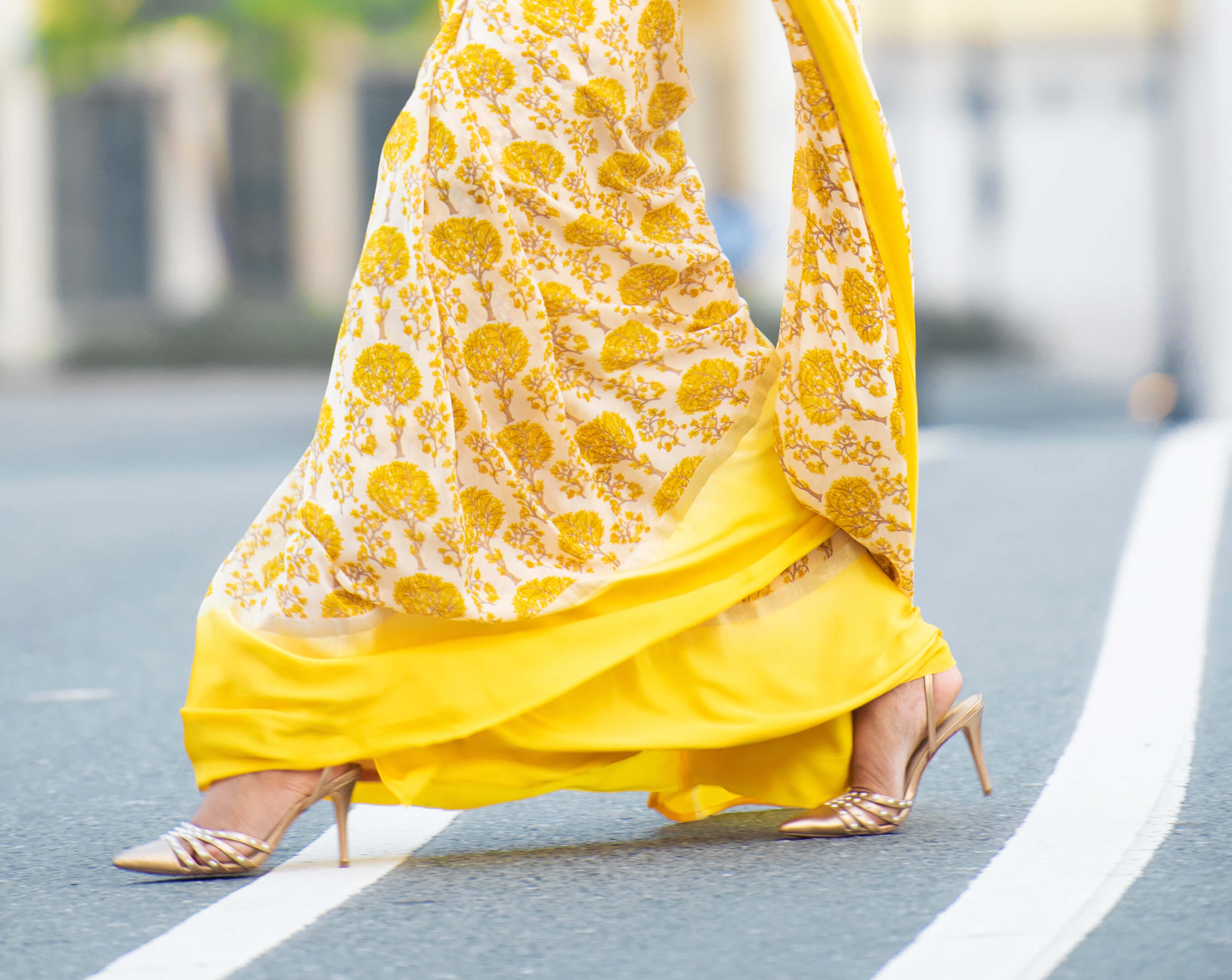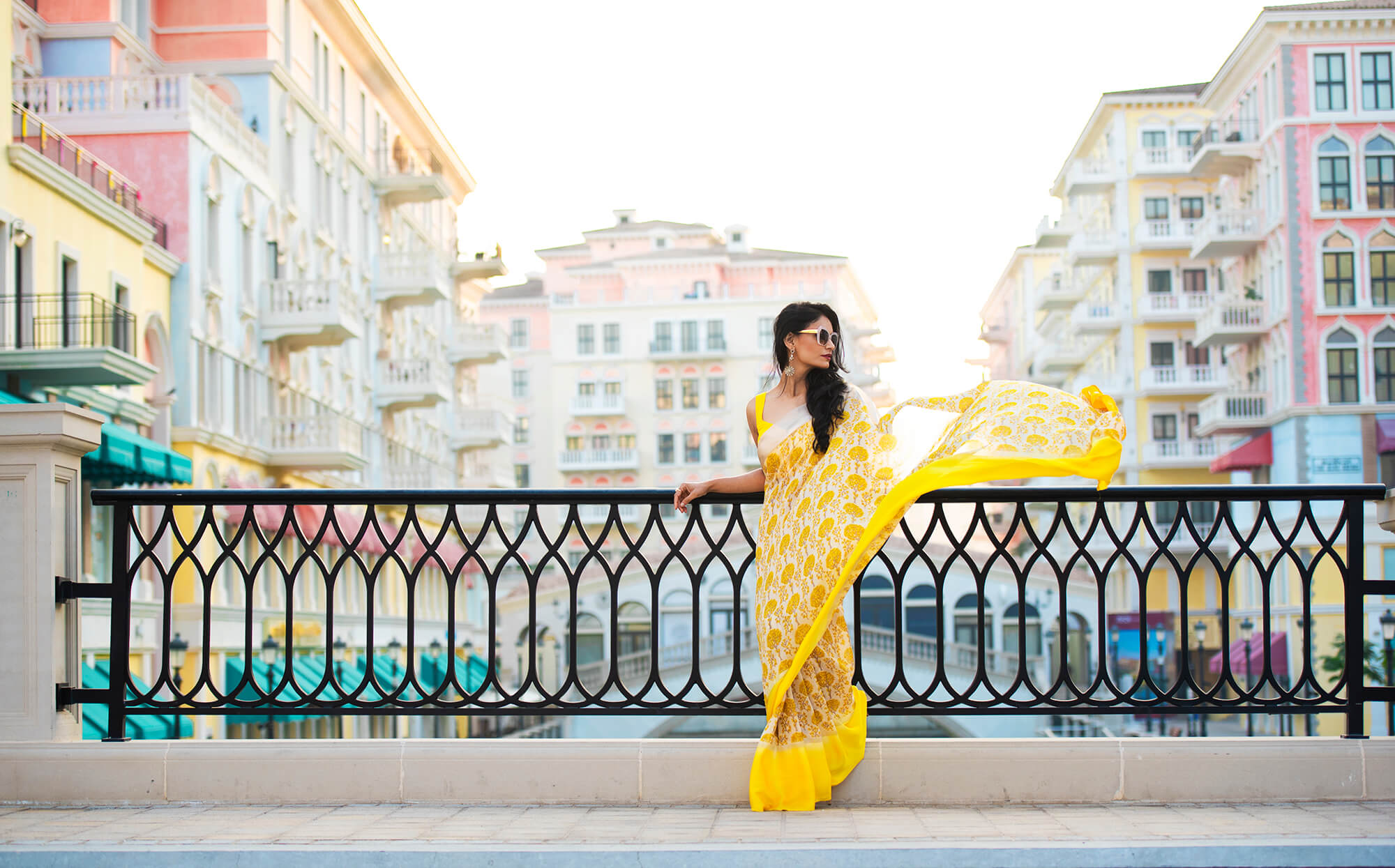 A Saree is truly  one of the most versatile garment. The same Saree can be draped in several ways, worn with different kind of blouses and accessorised in a number of ways. There is literally no end with the kind of variety one can have in the wardrobe with just few sarees. The most amazing thing about them is that they can be worn in different ways at different occasions. It is indeed the most versatile garment ever! Even though the authentic saree is modernized over the years, its elegance has always remained the same as ever.
To the people who are deeply fascinated with the Saree but aren't sure how to look different than others, the following points are some you should keep in mind:
1.      Firstly, A Saree is all about elegance. The way you wear, it should not lose its elegance, no matter how you drape it.
2.      Styling and Fashion is never about having too much. Adding too much  sometimes loses the authentic charm of the traditional look. So, keep it minimal.
3.      Keep in mind about the event. Until and unless it is a ceremonial occasion, prefer not to wear a saree that is too bright or too glamorous, with a lot of heavy decorative work, or is glimmering too much.
4.      Accessorise the look minimally. If you are attending a meeting, it is always ideal to keep the accessories minimal. Pairing a nice watch with studs in your ears works really well.
5.      Choose the right colour and pattern! When you are in a formal surrounding, it is ideal to wear sober colours. Also, too much print in a formal and an official surrounding looks strange and odd.
6.      Have a perfect tone of the make-up. You can prefer keeping your make-up settled if you are wearing bright shades. A nude make-up look enhances your features and gives you a natural look.
7.      Keep in mind that a neckless and an earring together often kills the look. I would recommend to have only one of them.
8.      If you are wearing a high neck or a broad neck, a long earing works great for a perfectly modern and stylish look.
9.      For neck-piece, chokers look extremely glamorous. You can add pearls for a more stunning look.
10.   If you are wearing a saree during a day-event/ business meeting,  a medium size satchel bag gives a formal touch and a perfect look. You can  cover your eyes with stylish glasses, that gives a perfectly modern  look. For evening, a clutch or a small box-bag can give a more stylish look.
Remember that, Saree is not only about the pure traditional look. Though traditional look is classy and has its own ethnicity and elegance, But I like the modern versions of it. I am very keen to give it a fresh and a new look every time I'm wearing them.
I hope the  points above  have helped you make a more stylish and modern look on this versatile wear.
Let me know if you have any other styling tips in your mind, I will try to add them in my next look.
Signing off for now until my next post,
Stay voguish Stay Stylish
Gazal
Video by : Hatem Rageh
https://www.instagram.com/hatem_1891/
Photography by : Monica Justine
https://www.instagram.com/monicajustine_/
Location: : The Pearl Qatar