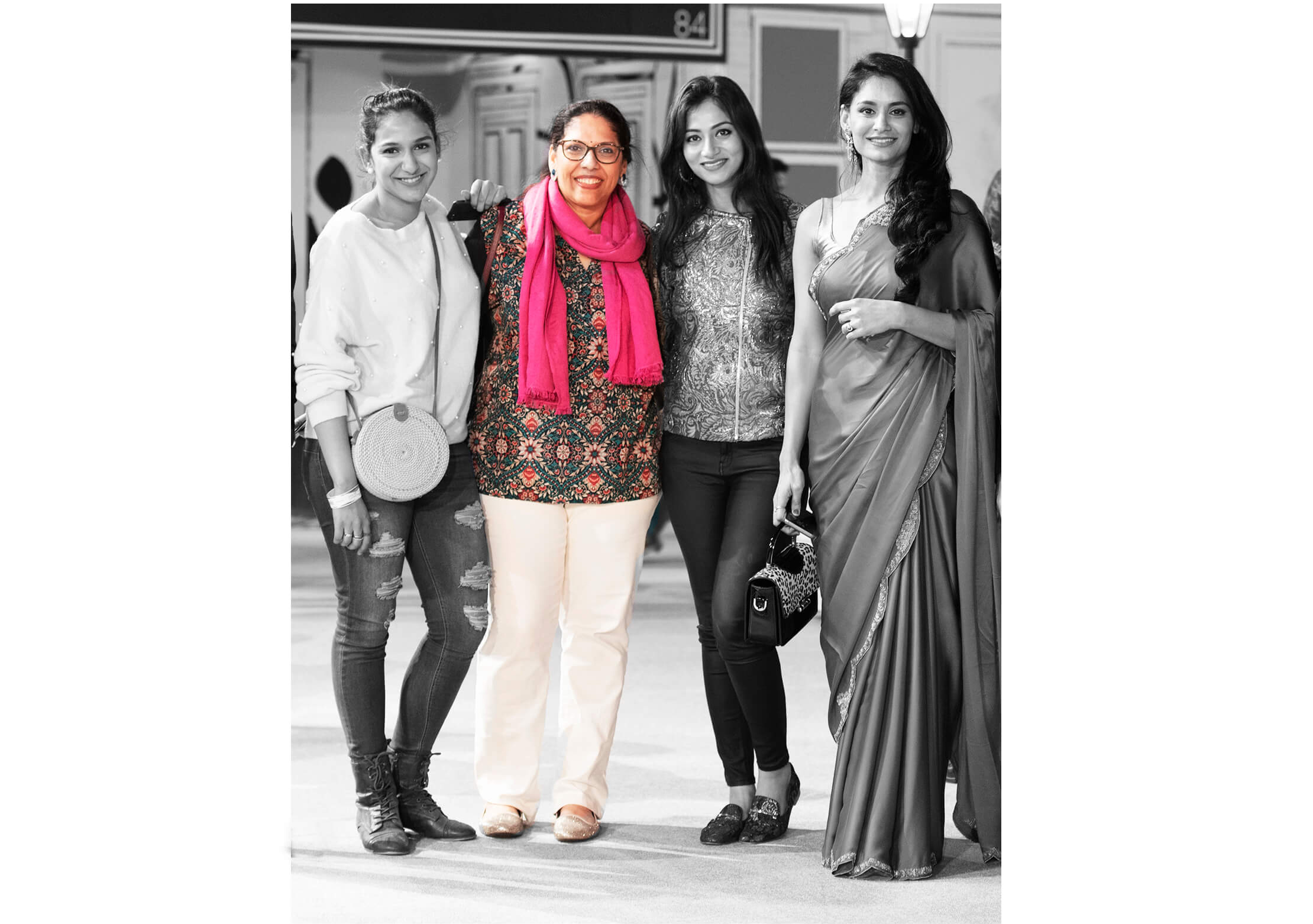 Tell me honestly, how many times do you get to meet women, who could afford to be rude and arrogant. But, on the contrary they choose to be humble?
I am not talking about women who seem to be very gentle and well behaved in your first meeting, neither I am talking about the women with whom when you interact publicly, they behave gracefully.
I am talking about the women who are nice and welcoming even if you are not interacting with them.
Though, I'm a shy person and I generally hesitate to initiate a conversation with somebody, not because the people around me are not inspiring enough to initiate, but I'm a strong believer of vibes!  I tend to follow the conversation with the exchange of vibe. So, whenever I meet new people the energy encourages me to reach to them, but sometimes turns me down to start a conversation!
Initially I used to hate this thing about me. Why do I not initiate the conversation? Why do I not try to mingle with people? But with time, I have learned that no matter how many people you know around you, at the end of the day only 5% or maybe even less than 5% would remain connected to your life. Let it be your personal or professional life. So, I would fill my life with the people who are around me and I wouldn't opt to "trying to impress new people to add them in my life."
My not-so-extrovert nature turned me to a good observer. I observe people around me carefully, their emotions and behaviour. Be it that I'm attending a luxurious event or I'm in a company of people, even if I'm talking less, I listen and observe more. And, it is very rare to meet a woman who is a Wife/Daughter to a very successful person but they prefer to remain simple and grounded.
I am happy to share this with you all. Recently, I met a woman who could have opted to using her husband's identity to get treated like a VIP. She could have sought all the attention on her by showing off her family status. She could have carried all the materialistic things that would have made her centre of attention. But surprisingly, she preferred on having a very grounded presence which wouldn't hint that this woman deserves to get all the attention. I am talking about Mrs. Sangeeta, wife of Dr. R. Seetharaman (CEO of Doha Bank), who is very famous and is having a affluent name in the Middle-east. Dr. R. Seetharaman is a recipient of multiple doctorate, a CA and amongst the top 10 CEO in Middle-east. He has expanded Doha Bank in multiple countries.  The list of awards that he is honoured with in his respective domain is relentless.
Today I'm not writing about this man who is amazingly successful, but about the women who is wife to this esteemed man, but still doesn't lose her humbleness under the image of her husband. When I met her for the first time, I completely misjudged her to be the  wife of a common  man. She was wearing a simple Indian attire, with a very simple presence and a charming smile on her face that would cheer up anybody around her. She was greeting everybody around her with a persistent smile. Even when she is not interacting with anyone, she would appear so approachable, looking at everyone like a child who is happy to see everybody around her. I forgot about her after that event and had never thought that I would meet her again soon because I never knew at that point the person she actually was. The second time I met her, I was completely struck with surprise, when somebody introduced her to me as Mrs. Sangeeta, wife of Doha Bank's CEO. I had heard a lot from my husband about Dr. R. Seetharaman. He is a man who is popular for his intelligence in the Indian as well as Arab community. I have never seen Mr. Seetharaman in person but I have an image of him in my mind as a smart and a successful person. My eyes were open wide with wonder because I saw her in the last event but I could never think that she was wife to somebody rich and famous. She was gentle and the kind of respect she was offering me and other people around her made me speechless. It was not something new for me to interact with the wives of rich and famous people. But this  was certainly a kind of new experience because my field doesn't give me the chance to meet women who are simple by choice.
I have done many interviews where I'm asked where I borrow all of my inspirations from. Every time I see women like her, they uplift my heart. They inspire me to be a better person, and to improve my work. I've already said that I observe a lot from my surroundings. So, all of it comes from my surrounding. And women like Mrs. Sangeeta are the people who inspire me to be humble and grounded, no matter what you have in life.
I've come across many women around me who take the advantage of their husband's identity and feel privileged and righteous to behave in an ill-mannered way. Be it adding arrogance, egotism or superciliousness.
My heart always wonders why these women think so exceptionally and superior of themselves. And why do the wives of rich and famous people not think about their husband image which could be ruined by their unnecessary attitude and rude behaviour in public. In a world full of such type of ladies, women like Mrs. Sangeeta are like the real deal. It is very rare to meet such women who are sufficient in themselves and inspire people like me who are watching them silently and observing their social behaviour. Even though I have never met Mr. Seetharaman in person, but certainly if Iam meeting him, the respect I have for him won't be just because of his achievements in life, it would  also be because I got  inspiration from the woman who is his better half. I am not sure if I will be able to be as humble as her, but now I have a face that I would like to be looked upon if its as a wife to someone.
I felt the urge to write this article to put light on the simplicity of life that people are lacking today. To the people who inhibit simple values like humbleness. your way of life is not ignored. As a mother to a young girl I want to inculcate these values in my daughter, right from her young age. Simplicity in life is always valued and is a sign of peaceful life. I want her to have confidence in humbleness and staying grounded, no matter what she is one day! I want to teach her the essence of life that is missing in today's generation which is spoiled by promoting materialistic values over good human etiquettes.
I also want to convey a message to the women who keep their status loud. You might get some importance and the attention that you seek from someone because you are the wife of somebody who is affluent and respectful, but you would get true respect only because of the way you treat other people around you.
Ladies, you have a huge responsibility on your shoulder when you are the wife of someone. You should choose to be recognized because of what you are as a person. It is not that difficult. I consider Mrs. Sangeeta as a strong personality, because she has complete control over her status, she is not amongst those women who are controlled by their status. She is adding more grace and elegance to her husband's name with her values. I wish to meet many more personalities like her, to have such people around me and I wish to inculcate these values around me! As our society is losing essence of a simple life and women are running after a materialistic life without even thinking what impact it might make to our coming generation, spotting Mrs. Sangeeta in this society restores my faith in humanity and I am truly committed in making sure that these values do not diminish from our society.
I hope you liked getting to know the humbleness of this woman.
Signing off for now hoping that it won't take me a long to spot another inspiring woman.
Until my next post
Stay Humble Stay Voguish
Gazal